First off, I'd like to say a big THANK YOU to Roz over at la bella vita who just featured my recipe for Nutella Mascarpone Calzone this morning!
I've also been meaning to say thank you to Miz Helen and Jacque at the Soda Parlor for featuring me last week!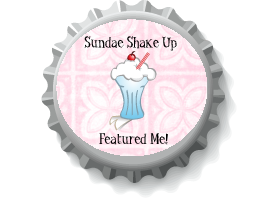 This past Wednesday, I started a new feature called What-You-Eat Wednesday. I featured the horribly processed ingredients of a mystery food, if you can even call it food. Here's what I posted.
Milk Fat and Non Fat Milk, Fruit Base (Strawberries, Bananas, Crystalline Fructose, Inulin Fiber, Strawberry and Banana Flavor with Other Natural Flavors, Food Starch - Modified, Citric Acid, Sucralose, Potassium Sorbate as Preservative, Red 40, Blue 1)Inulin, Whey Protein Concentrate, Food Starch - Modified, Kosher Gelatin, Sodium Citrate, Tricalcium Phosphate, Cultures, Vitamin A Palmitate, Vitamin D3. contains Live Active Yogurt Cultures Including: L-Acidophilus and Bulgaricus, Bifidobacterium Longum and S. Thermophilus.
As I said, the first couple of ingredients were sort of a give away on this one, but I still think it's ridiculous. This mystery food is actually Weight Watchers' Strawberry Yogurt. Paola, you were pretty much on the nose.
I think fat-free yogurt is really gross. Not only because of the weird slimy texture or the fake taste to it, but also because most of the fat free yogurts in stores today can hardly even be called yogurt at all. My recommendation is to look for a natural yogurt, if you like even a low fat yogurt, but one with real ingredients. Then add your own ingredients. A little honey, maybe a touch of natural jam. Some nice ripe or even frozen fruit and a splash of real vanilla. It's different, but when you do this and eventually try fat free processed yogurt again, you WILL realize how gross it is.
On to today's Feature Friday!!!!
This week there are two recipes I want to feature, because they're both so great, I couldn't pass one up.
First is from a new follower of mine from the Red Door Kitchen. This week, she (at least I get the impression she's a she, she smartly doesn't post her name from what I can see) featured a wonderful looking Classic Chicken Alfredo. It looks creamy and delcious, and it's something I haven't had in a while and am thinking I should do so pretty darn quick.
You should definitely go check out her blog. It's got lots of GREAT recipes.
The second recipe I want to show you this week is from Julie over at Little Bit of Everything. This week, she tried out one of the recipes she found online for Green Bean Salad with Goat Cheese. Now... I don't know how you all feel, but in my books, anything combining green beans with goat or feta cheese is bound to be a good thing. What I though was interesting about this beautiful looking salad was that there is no oil in it. But you know what? I think that green beans are in good season right now, and they probably don't even need it, especially with all the other great things that go into this salad.
Julie has a great blog and you can go check it out here.
Thanks for stopping by. If you have a recipe you would like featured on Feature Friday, please let me know! And if you are featured, feel free to grab a button. Happy Friday everyone!